As I was picking up the thousandth LEGO of the day, I wearily sighed and felt the frustration mount in my chest.  My seven year old son passed through the room and sweetly said, "I love you mom, you are the best mommy ever!" 
It wasn't the first time I had heard this precious statement.  My son rewards me with this affectionate statement daily.  I never know when he will lovingly send out his adoration's.  He never uses the statement as a vice to get something he wants or because I have done something amazingly, wonderful for him.  No, he just shares his love with me unconditionally. Even on days when I know I really don't deserve such high accolades....
You can read the rest of my article At The Well today.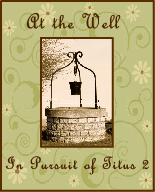 **If you haven't left a comment on my Tuesday post make sure you do so that you can be entered into my Giveaway!**