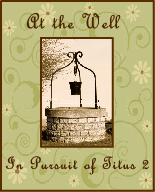 At The Well is kicking off its "Grand Opening". The new site will be featuring articles/devotionals based on the Titus 2 woman (to which I will be contributing). It will be a gathering place for women to learn more about loving their husband and their children, keeping their homes, and living their lives so that they may please the Lord.
Join in on the giveaways on February 2nd. You can get a jump start now by heading to the Well today. You will be able to enter your name 3 times now and then one more time on the 2nd.
Here is what you could win...
A brand new blog facelift valued at over $50
donated by Doodlebug Designs
A custom blog card (or mom card, if you don't blog) design, valued at $30. You'll receive a high quality .jpg, .png or .pdf file – you can do the printing yourself or have them printed online or locally – the options are endless. Print only as many as you need!
The file is yours to keep.
donated by Simply Amusing Designs
"Fill 'Em Up!" ... a "cookbook" for parents to use with kids which includes a devotional/Bible study that goes along with each recipe.
donated by Heavenly Homemakers
A signed copy of the book "The Devil in Your Garden"
donated by Natalie Witcher from I AM (not)
A digital scrapbook download package
donated by The Digital Scrapbook Place
A $25 Starbucks gift certificate
donated by At the Well
So, what do you think? Would you like to win one of these? Go check out At the Well!